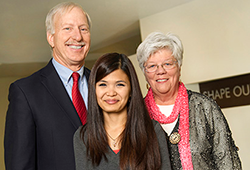 Jeff Harris '75 and Joyce Pratt chose a unique gift to commemorate the 90 birthday of his mother. To honor her lifetime commitment to education, they established the Jane King Harris Scholarship. After learning about the many benefits, they chose to make their tremendous gift of scholarship, in part, through appreciated stock.
Thanks to Jeff's and Joyce's gift, Pech Chhun is the recipient of the Jane King Harris Scholarship. Because of their generosity, Pech-a Rochester City Scholar-is able to focus on earning her degree and one day fulfilling her dream of becoming a physician.
Jeff and Joyce changed a life through a gift of stock. Join them. You too can make it happen for an RIT student. Watch the video. By donating stock that has appreciated in value, you can avoid paying any capital gains tax on the stock you donate. For more information and to learn how you can create your legacy, please contact Hallett D. Burrall, Senior Director of Planned Giving at 585.475.3106 or [email protected]. To have Hallett contact you directly, please complete and submit the form below.