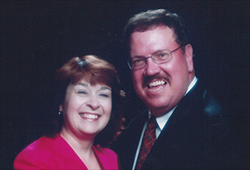 Stephen Nosek MBA '78 almost didn't attend RIT. However, RIT's willingness to work with him by providing some necessary and creative accommodations motivated Steve to choose RIT over other graduate school options.
"I'm a fraternal twin and from a middle class family," said Nosek. "My father was a machinist and my mother was a homemaker. My twin was going to law school, my oldest brother was an attorney, and so we originally had the idea to make our future law firm 'Nosek, Nosek, and Nosek'."
"I applied to the law schools that I wanted to go to, but I had the good fortune of wanting to marry my high school sweetheart. The only way we could get married was if I had a job, and I wasn't going to get a job until I was through with my schooling," explains Nosek.
"I ended up doing a three-year MBA program in one year and one quarter. It wasn't because I was particularly ambitious," laughed Nosek. RIT allowed him to test out of some of the prerequisite courses, thereby shortening the time to degree completion. However, there were some scheduling conflicts that resulted from this accelerated, short timeframe. He couldn't be in two classes at once.
"I would go to the library," said Nosek, "and at the time there were only eight track tapes to record on. I would go and physically get the bulky recorder every week, deliver it to the classroom, and have a classmate turn it on. There was only 16 feet of cord, so the teacher was limited to moving with the microphone-but that's what RIT was willing to do for me so I could finish the program early."
To help offset some of the cost of tuition, Steve became a graduate assistant. The only position available was working with a professor of statistics. "I was taking statistics for the very first time at night, and then during the day I was turning around and answering questions for undergraduate students as a graduate assistant," said Nosek of this unique experience.
"The other thing that I learned fairly quickly, was that most MBA programs in other schools were far more theoretical than RIT's," Steve explains. "I would say RIT's was very business friendly and practical. For example, the person who taught me finance was the VP of Finance for the largest bank in Rochester. The person who taught me cost accounting was the Cost Accounting Manager for Eastman Kodak and General Motors. The person who taught me marketing was the National Marketing Manager for RG French. These were individuals with not only great real-world experience, but individuals who worked for well-known, successful brands."
"The application and practicality was there," Steve adds. "We weren't only talking theory and esoteric ideas, though those were covered, we were learning how to apply theory and big ideas. The professors created robust syllabi that really demonstrated how students would need to apply their knowledge and skills in order to be outstanding employees."
Soon after graduating RIT, Steve was hired at Merrill Lynch. "When I went for the open house, there were 40 people and three openings, so I almost walked in and walked out." Steve's feels that his boss took a "huge chance" on him when he was hired as a financial consultant at Merrill. "I knew that because I completed the program at RIT so quickly, I would be the youngest person hired. I was - and by whole lot. I rewarded Merrill Lynch for going out on a limb for me by working for the firm for 41 years."
Coming from a modest upbringing, Steve credits the university for his understanding of the concepts of finance, which would prove integral for his career. "RIT gave me the tools I would need in the workforce."
"I think that's how I knew I was going to give," said Steve. "I realized that I could give back to RIT because I was at a point financially in my life to do so, and also because of all the RIT enabled me to accomplish while in school and long since after."
Steve retired in 2018, but he knew that as soon as he received his degree, he was indebted to the university and to the business program. To show his appreciation and to pay it forward, Steve created the Nosek Endowed Scholarship to help students from Western New York in the Saunders College of Business.
"RIT will always hold a special place for me," he said. "To alumni considering giving back," he advises, "remember how the university has helped you and your career. Regular people can give back and make a huge difference in the lives of students today. Take baby steps at first, but the biggest thing is that the longer you wait to give, the more you forget. I would get in the habit of giving back while it's fresh in your mind."