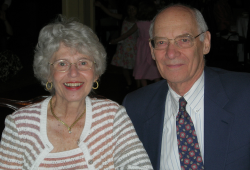 Building gender equity in computing fields is critical for our future, not just their future. As computing is ubiquitous to almost every product, and almost every area of life, ensuring women's representation ensures that computing serves all people, and provides the broadest possible framework for the development of effective new technologies.
Alice Jo Lichtman MS '77, and her husband, Marshall, believe strongly in the importance of women in computing fields. As one of two women in her RIT computing master's degree program, she was supported through her studies by RIT faculty and fellow students, and that gave her confidence to pursue a successful career in computer science that included developing the first automated teller machines for banking.
When Alice Jo and Marshall considered how they could share her success with young women and impact her career field, they turned to RIT's Women in Computing organization. By creating a fund to support travel to conferences, Alice Jo and Marshall are providing today's female computing students with an outstanding opportunity to build their networks, develop new skills, and gain access to future mentors. They are also putting an RIT face on the future of computing.
Hear from some of our WiC alumnae about the value of their trip to the annual Grace Hopper Conference https://www.youtube.com/watch?v=VrhxT86HW5Y.
"We see our gift as being impactful in several ways," says Alice Jo. "These young women will have the opportunity to network with fellow students, leaders in the field, and potential employers. They will, also, be ambassadors for RIT's computer sciences programs at national and international conferences."
By creating the travel fund, Alice Jo and Marshall also found a benefit for themselves. They used their IRA distribution to create the fund, and continue to add to it each year through a Qualified Charitable Distribution. A QCD is easy to execute, and provides a tax advantage by lowering taxable income each year. By simply notifying their IRA plan administrator, some of their annual required minimum distribution is sent directly to RIT as a charitable gift, and that gift supports the area of the university that they care about.
Download our free guide to the Qualified Charitable Distribution